Yaseen Alshehadt has a job, his children are receiving the "world's best education," and his wife is learning to speak English. This has all happened after Canada welcomed close to 60,000 Syrian refugees into their country. Alshehadt is now living the immigrant's dream. The Syrian refugees were sponsored by community groups and the federal government, and although it is never easy to settle in a new country, they are slowly setting down roots according to COSTI, an agency assigned by Ottawa to help settle the Syrians in the Greater Toronto Area.
Canadian Visa Expert and its team of professionals can assist you in obtaining the required visa to live and work in Canada. The country is very welcoming to immigrants, and there are many job opportunities available for you and your family.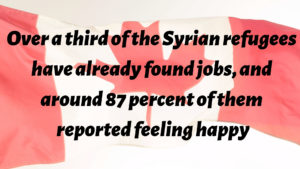 Over a third of the Syrian refugees have already found jobs, and around 87 percent of them reported feeling happy. Alshehadt said, "I can speak English now and have a job. My kids are in school. We feel 80 percent Canadian." He and his family fled Daraa in 2011 when civil war broke out. They lived five years in Jordan before being allowed to come to Canada under government sponsorship. He said they are proud of Canada and they desire to make Canada proud of them. He admitted they need some time to grow.
Canada has excellent healthcare, many job opportunities, and is welcoming to newcomers in their country. CanadianVisaExpert has a simple Five-Phase process to help you receive your Canadian worker visa. Contact them today!