Canada has no choice but to rely on immigrants to satisfy the labor shortage they are experiencing. Even if they retained all new graduates and minority groups such as the disabled, women, and the Indigenous people, the country still would not have enough to fill the open positions.
By 2040, one-fourth of the population will be 65 or older, and there is a decline in the birth rate, which increases the need for Canada to rely on newcomers in the workforce. To have healthy growth and maintain the social infrastructure, immigrants are needed to fill the open jobs in Canada.
The team of legal experts at Canadian Visa Expert is dedicated to helping you obtain a visa to live and work in Canada. They will make sure you choose the correct visa and understand the point system. Contact them today!
Although 11.8 million Canadian residents will finish their education and join the workforce between 2018-2040, it is not enough to cover the 13.4 million retirees during the same time frame. A study, "Can't Go it Alone. Immigration is Key to Canada's Growth Strategy," reported, the retirement rate has increased and by 2030 9.2 million of the country's most prominent group of workers, the baby boomers, will be ready to retire.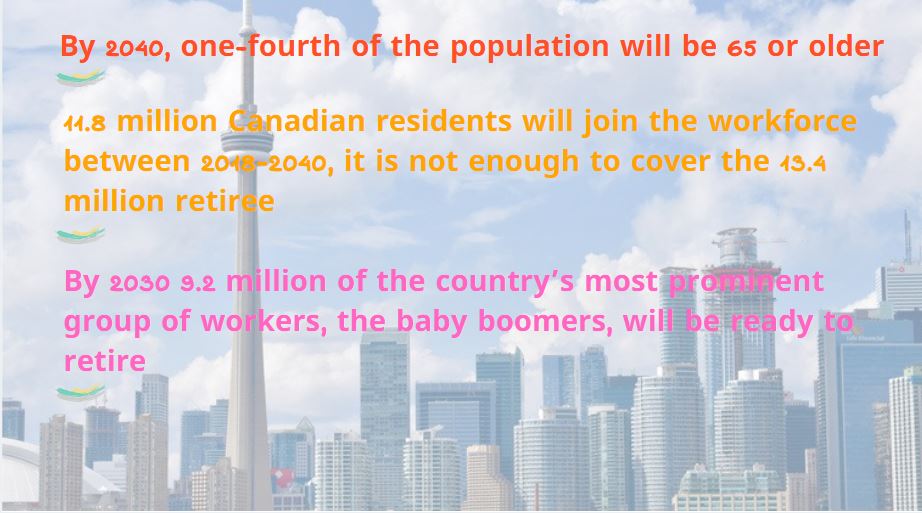 If you are interested in living and working in Canada, Canadian Visa Expert has a team of professionals available to assist you and your family. They will walk you through your options regarding the correct visa you need and make you aware of how professions are assessed.
These statistics, along with a low fertility rate, have created fiscal and economic pressure. Canada needs to find solutions to fill the positions being left void so that they can maintain their high living standards. A large workforce must be stabilized to bolster tax revenues to cover the cost of social expenditures, such as increased health-care costs and stimulate economic activity.
Relocating to a new country is exciting, but can be overwhelming at the same time. Contact Canadian Visa Expert for help with the immigration process. They will walk you through each step and answer any questions you may have.